You may locate your Map by clicking on "Family" at the top of the page and select "Map."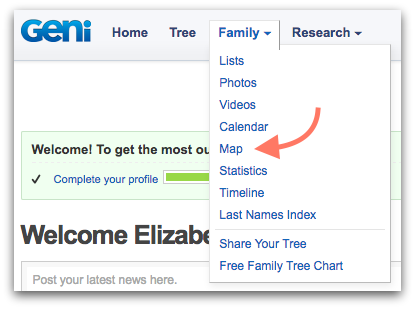 As a reminder, only relatives with place of birth, current location, place of death and place of burial included within their profiles will appear here.
You may mouse over the push pins to see the name of the location and the relatives at that location displayed in an easy-to-read list.
There's also a clickable list of names so you can get more information about the individuals at that location. Simply click on a pin to reveal the entire list of names to the right of the map. The selected pin will be highlighted in blue. (Note: You can click on the pin again to close the list.)
You can hover your mouse over a name to reveal the hovercard for the profile, which provides you with some quick information about the person. Or you can click on the name to open the profile in a new tab.
Add Location Details
Below the map, you'll find a list of relatives who are missing location information – current location, place of birth, place of death, or burial location. Simply click "add" to quickly enter new location details for your relatives.
Updated: May 31, 2023