To create a Family Tree Chart, at the top of the page, click "Family" and select "Free Family Tree Chart"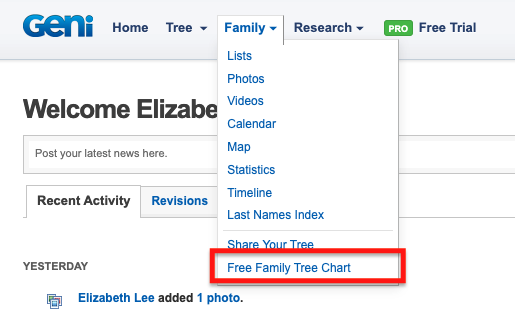 Or you can begin from the tree view. Simply click on the printer icon at the lower right corner of the tree.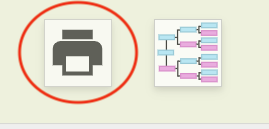 A pop up window will appear, giving you two options: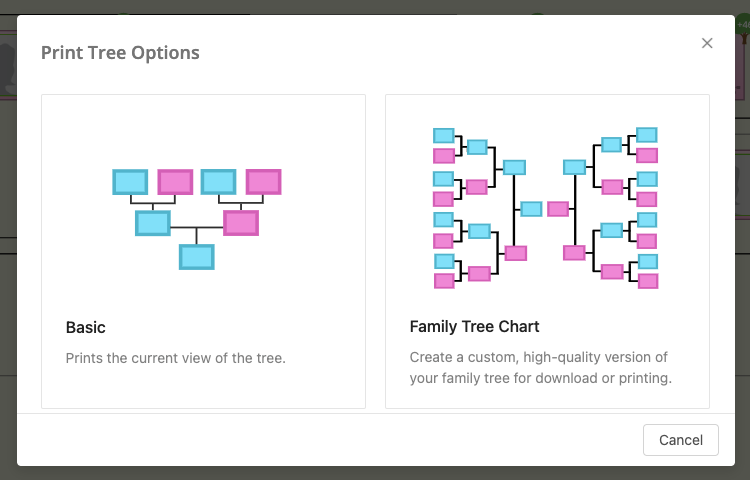 Click "Family Tree Chart" to create your custom five-generation family tree chart. (To print a basic tree, please see: https://help.geni.com/hc/en-us/articles/229703287-How-do-I-print-my-tree-)
You can create a Family Tree Chart for yourself or someone else as the focus.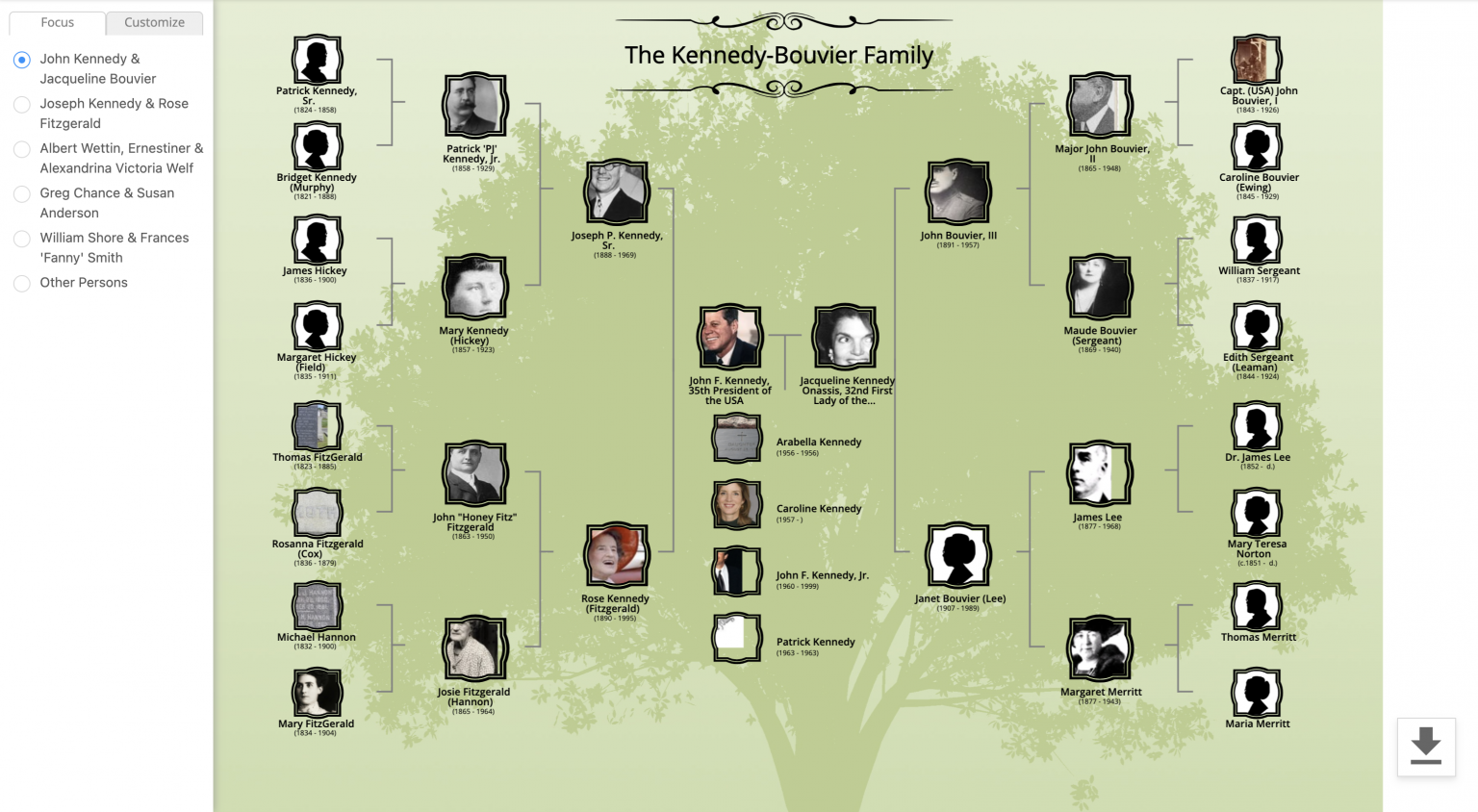 If you need to change the focus of the chart and do not see their name on the list, select "Other Persons" in the left panel. As you enter a name, suggested relatives will appear. These will include people within your family group, profiles you follow, and profiles you have recently viewed.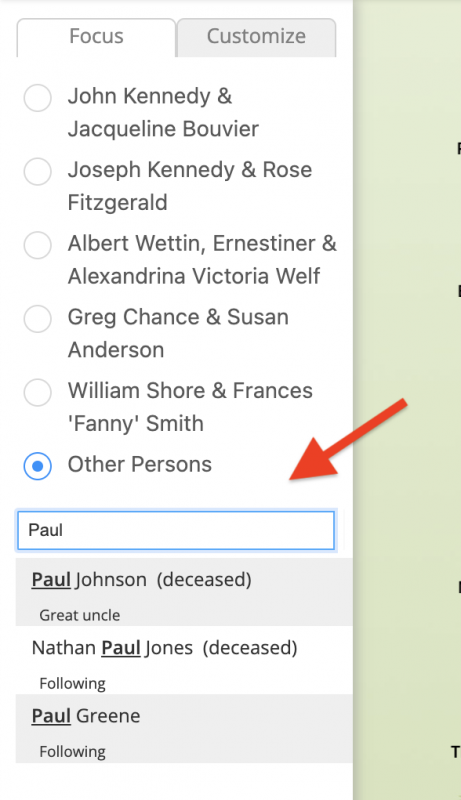 You can click on the chart title to edit the name shown at the top of the chart.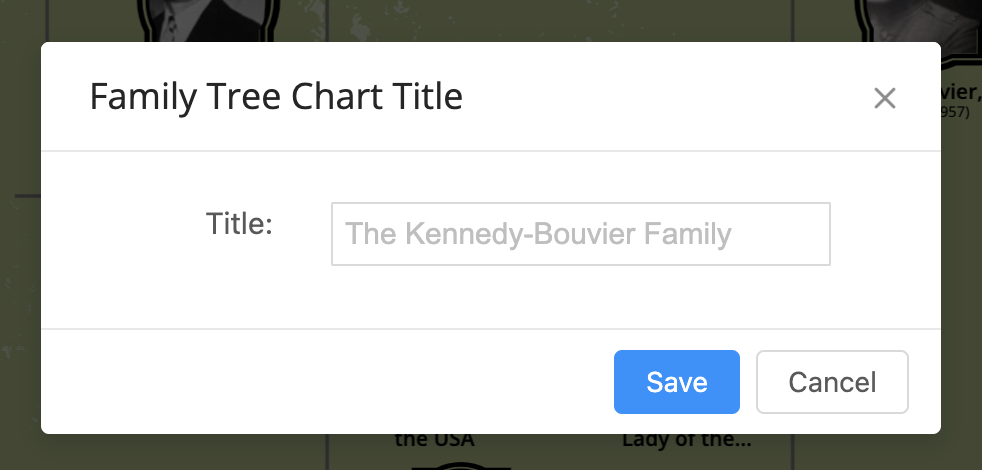 You can customize how each name appears on the chart by clicking on a person's name. (Note: the change will only affect how the name appears on the chart. It does not change the name in the family tree.)
Photos can be adjusted by clicking on the image and dragging the photo within the frame to center it. Use the slider to zoom in and out as needed until you are satisfied with how it looks.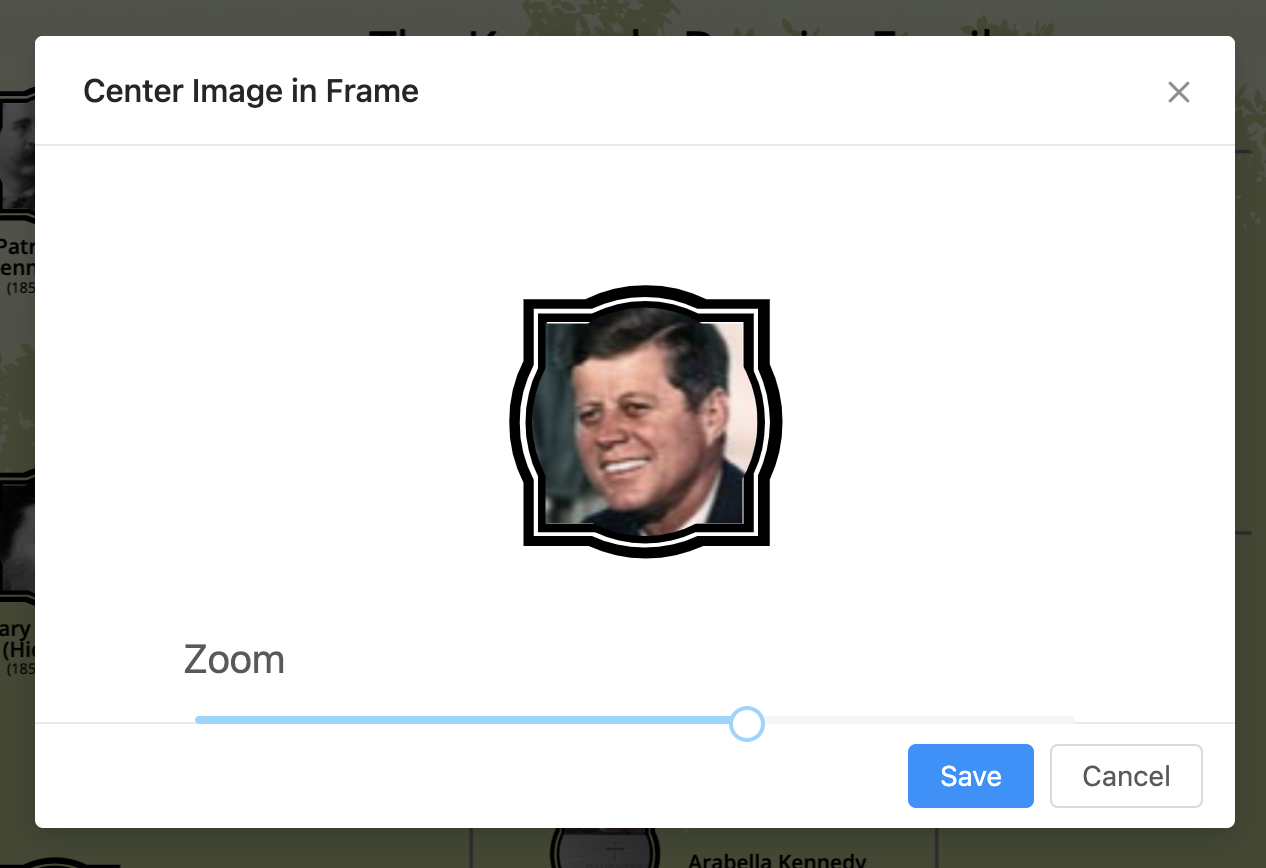 If there is no profile photo available, you can add one by clicking on the silhouette to upload a new photo or select an existing photo from your albums on Geni. (Note: The new image will be added as the profile photo for your relative.)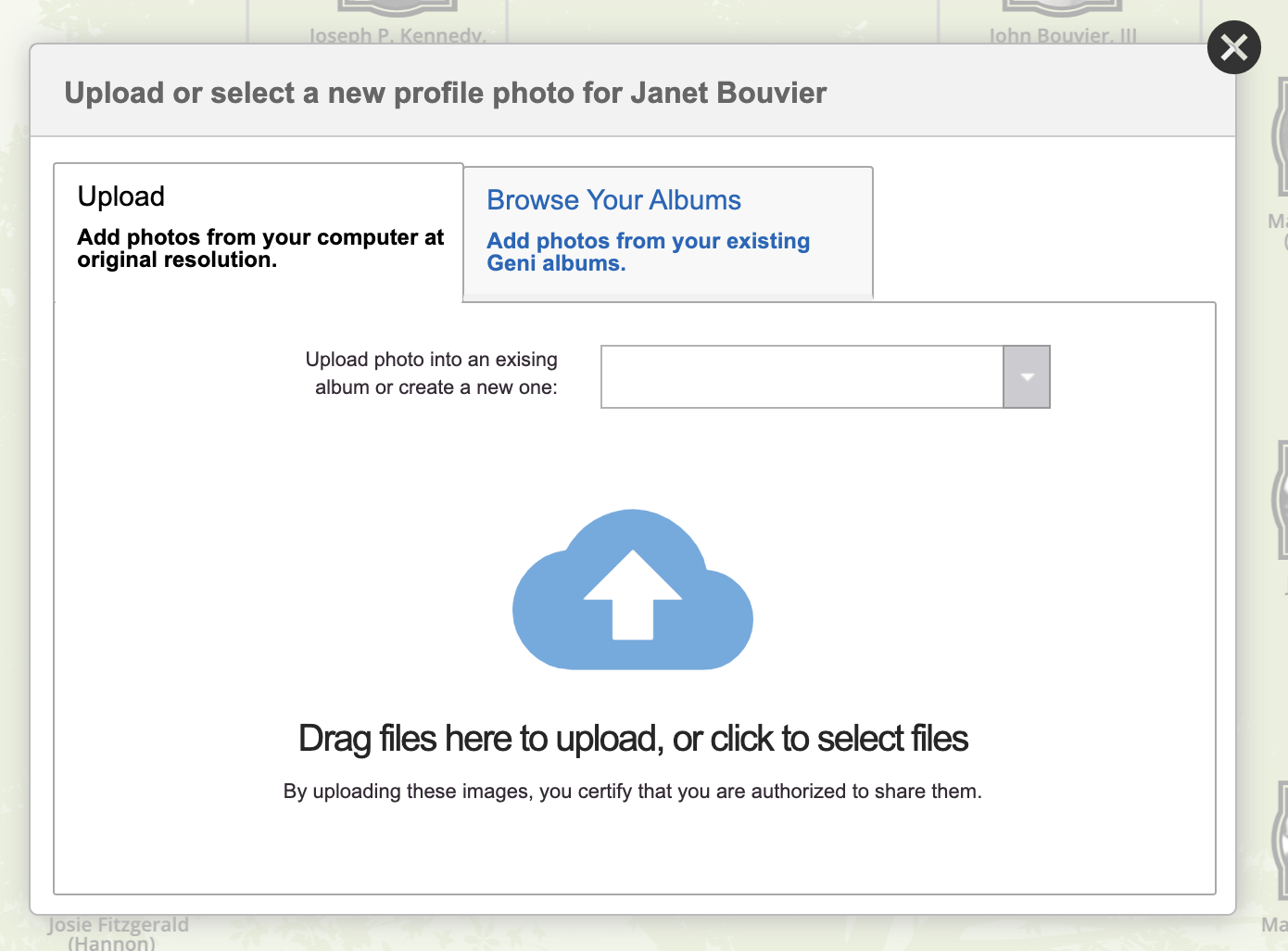 In the left panel, select the "Customize" tab to customize other aspects of your family tree chart. Choose from a selection of photo frames, backgrounds, title borders, and fonts. You can decide if you want to display dates below a person's name. You can also choose which of the children (if any) you would like to show on the chart.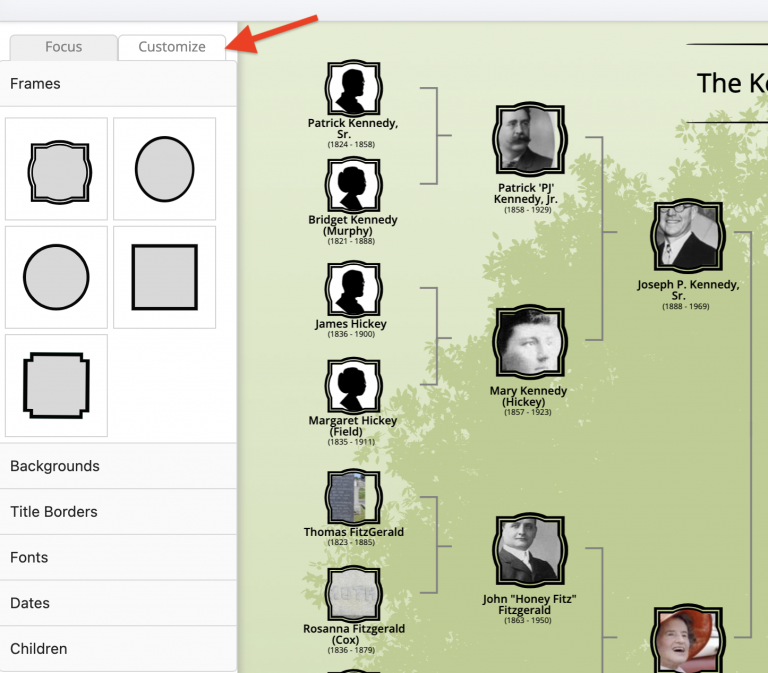 The Family Tree Chart will automatically save as you are making changes, so you can return to the chart at a later time.
Geni will save up to 5 charts. Once you reach the maximum number of charts, you will need to delete one or more existing charts before you can create a new one.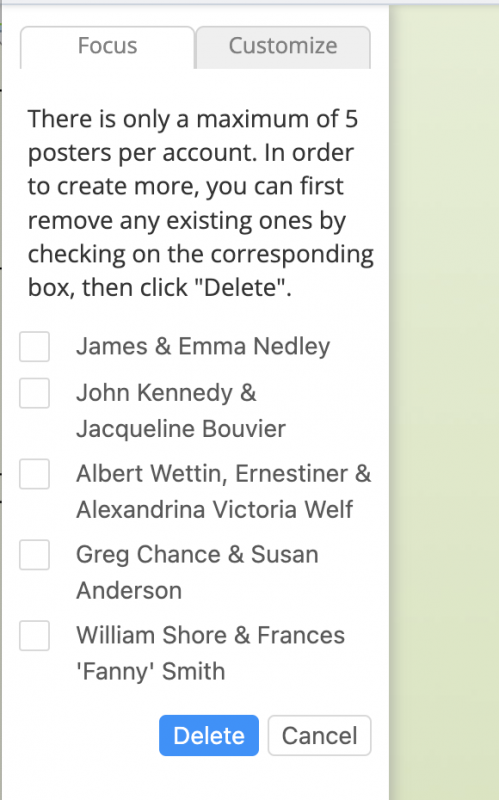 Once you are satisfied with your family tree chart, click on the download icon at the bottom right of the page to download a high-resolution file of your chart to your computer.
Updated: June 16, 2022